Stuffed Winter Squash
Best for acorn, dumpling, spaghetti squash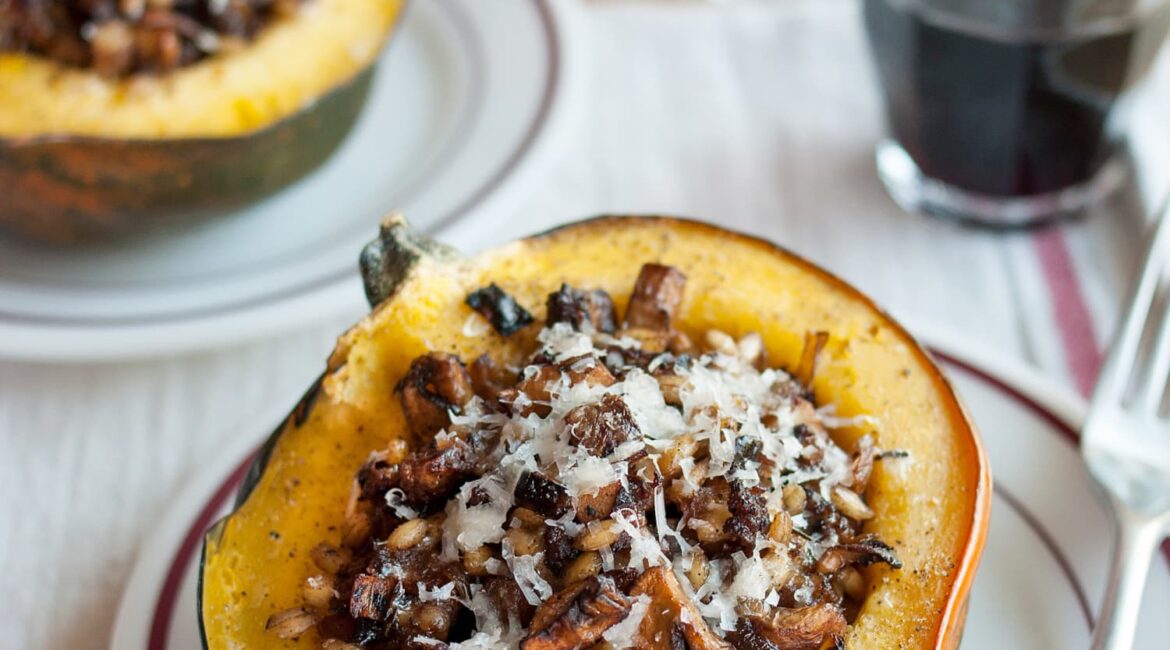 Yields:

2 Servings
Difficulty:

Easy
Prep Time:

15 Mins
Cook Time:

50 Mins
Total Time:

1 Hr 5 Mins
Best for acorn, dumpling, spaghetti squash
Prepare the squash for roasting. Arrange a rack in the lower-middle position of the oven and heat to 375°F. Cut the squash in half from stem to root. Scoop out the seeds.

Transfer the squash to a baking dish. Place the squash halves cut-side-down in a baking dish and pour in enough hot water to fill the pan by about 1/4 inch. Cover the dish loosely with aluminum foil.

Roast the squash. Roast the squash until very soft and tender when poked with a fork or paring knife, 30 to 50 minutes. Exact roasting time will depend on the size and variety of your squash. While the squash is roasting, prepare the filling.

Prepare the filling. Depending on the size of your squash, 2 to 3 cups of combined ingredients is usually sufficient. You can combine leftovers from other meals (cooked chicken, roasted vegetables, etc.) or you can prepare a fresh filling. Cook any raw meats and raw vegetables and combine all the ingredients in a bowl. Taste and adjust the spices, salt, and pepper to your liking.

Stuff the squash halves. Flip the cooked squash halves so they form bowls. Rub the inside with a little olive oil and sprinkle with salt and pepper. Divide the filling between the halves — it's fine to really stuff the wells and also to mound the filling on top.

Bake the stuffed squash halves until bubbly. Cover again with the foil. Roast until heated through and bubbly, 15 to 20 minutes. Top with extra cheese if desired and serve immediately.
Notes
General amounts for filling — to equal 2 to 3 cups total